Basic BGP Cisco Lab Configuration
Overview
Building on the is-is basic lab, the next component of network routing design involves connecting one organization to another. Whereas, is-is is used to exchange infrastructure routes internally, the BGP protocol is designed to communicate routes with external entities.
This lab utilizes is-is to exchange internal point-to-point and loopback interfaces routes, ebgp to exchange external routes between organizations, and ibgp to exchange the external routes learned from ebgp to internal routers.
Download the lab yaml file here
Lab Topology Diagrams
Cisco Modeling Lab topology: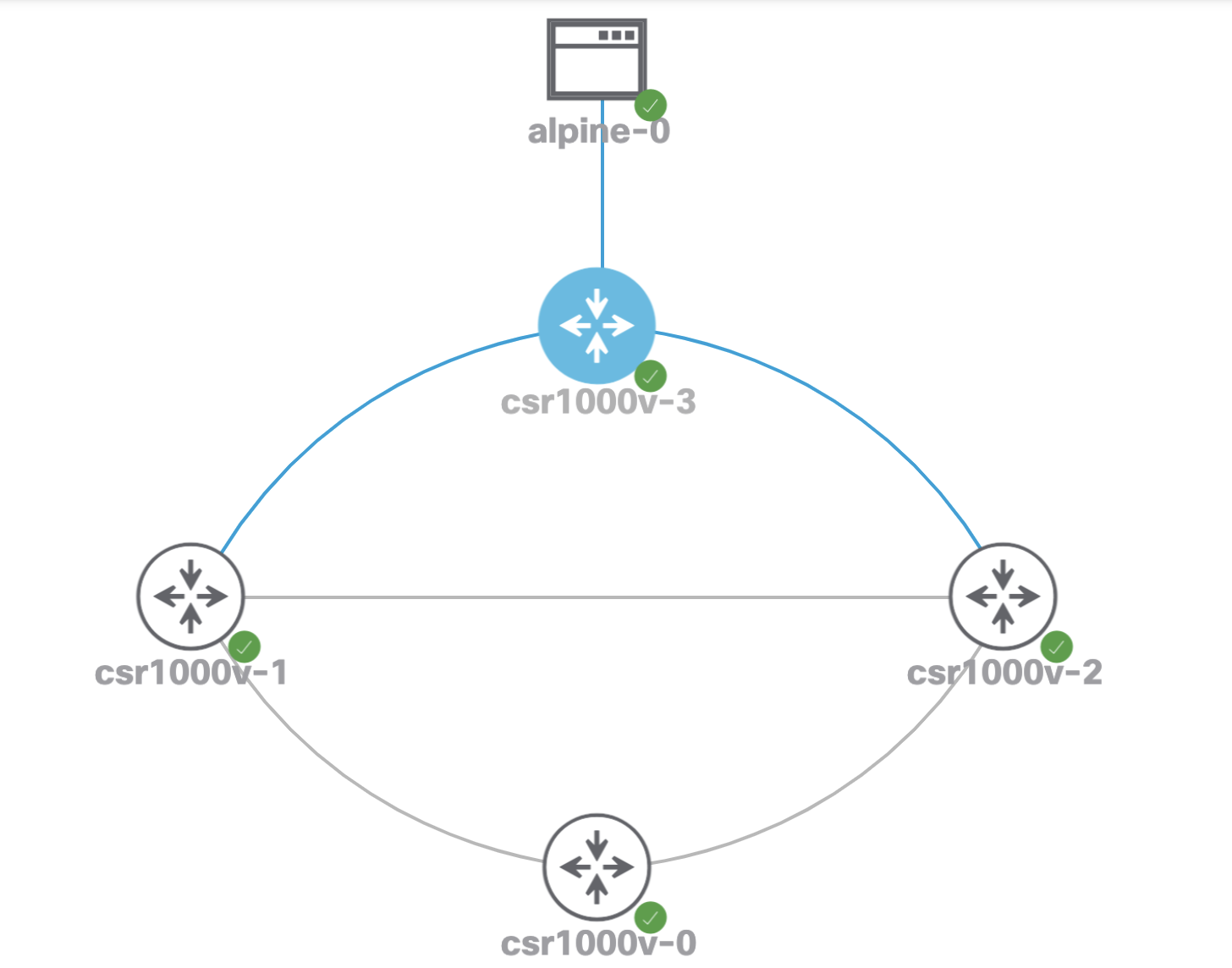 Logical topology with organization, name and addressing information: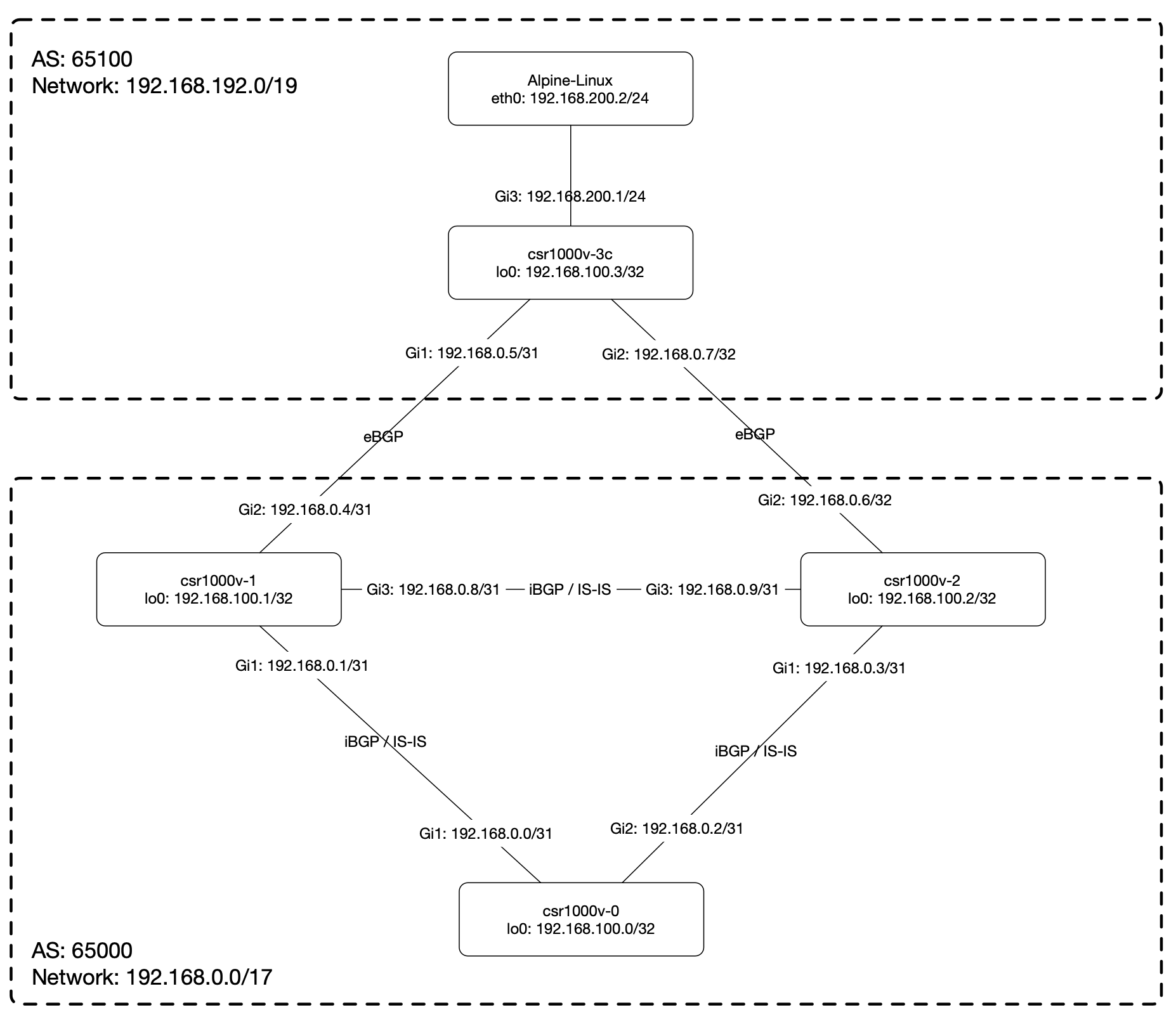 Template Configurations
Inter AS router configuration template for eBGP routers.
ip route 192.168.0.0 255.255.128.0 Null0 - It's common practice for BGP to exchange a summary of the organizations network prefixes, not each individual route. To exchange a network prefix with bgp, the exact route must exist in the FIB (routing table). To meet this requirement, a static route with the summary prefix is manually added as an anchor route.
network 192.168.0.0 mask 255.255.128.0 - Network prefix to exchange with the neighbors.
ip route 192.168.0.0 255.255.128.0 Null0





router bgp 65000


 bgp router-id interface Loopback0


 bgp log-neighbor-changes


 neighbor 192.168.0.5 remote-as 65100


 neighbor 192.168.0.7 remote-as 65100


 !


 address-family ipv4


  network 192.168.0.0 mask 255.255.128.0


  neighbor 192.168.0.5 activate


  neighbor 192.168.0.7 activate


 exit-address-family

Local router configuration template for iBGP routers:
router bgp 65000


 bgp router-id interface Loopback0


 bgp log-neighbor-changes


 neighbor 192.168.0.8 remote-as 65000


 neighbor 192.168.0.2 remote-as 65000


 !


 address-family ipv4


  neighbor 192.168.0.8 activate


  neighbor 192.168.0.2 activate


 exit-address-family

Router Configurations
csr1000v-0
Router configuration:
router bgp 65000


 bgp router-id interface Loopback0


 bgp log-neighbor-changes


 neighbor 192.168.0.1 remote-as 65000


 neighbor 192.168.0.3 remote-as 65000


 !


 address-family ipv4


  neighbor 192.168.0.1 activate


  neighbor 192.168.0.3 activate


 exit-address-family

csr1000v-1
Router configuration:
ip route 192.168.0.0 255.255.128.0 Null0





router bgp 65000


 bgp router-id interface Loopback0


 bgp log-neighbor-changes


 neighbor 192.168.0.0 remote-as 65000


 neighbor 192.168.0.5 remote-as 65100


 neighbor 192.168.0.9 remote-as 65000


 !


 address-family ipv4


  network 192.168.0.0 mask 255.255.128.0


  neighbor 192.168.0.0 activate


  neighbor 192.168.0.5 activate


  neighbor 192.168.0.9 activate


 exit-address-family

csr1000v-2
Router configuration:
ip route 192.168.0.0 255.255.128.0 Null0





router bgp 65000


 bgp router-id interface Loopback0


 bgp log-neighbor-changes


 neighbor 192.168.0.2 remote-as 65000


 neighbor 192.168.0.7 remote-as 65100


 neighbor 192.168.0.8 remote-as 65000


 !


 address-family ipv4


  network 192.168.0.0 mask 255.255.128.0


  neighbor 192.168.0.2 activate


  neighbor 192.168.0.7 activate


  neighbor 192.168.0.8 activate


 exit-address-family

csr1000v-3
Router configuration:
ip route 192.168.192.0 255.255.224.0 Null0





router bgp 65100


 bgp router-id interface Loopback0


 bgp log-neighbor-changes


 neighbor 192.168.0.4 remote-as 65000


 neighbor 192.168.0.6 remote-as 65000


 !


 address-family ipv4


  network 192.168.192.0 mask 255.255.224.0


  neighbor 192.168.0.4 activate


  neighbor 192.168.0.4 default-originate


  neighbor 192.168.0.6 activate


  neighbor 192.168.0.6 default-originate


 exit-address-family

Testing and Validation
Validate internal and external BGP neighbors from the csr1000v-1 which is connected to both the internal and external organizations:
csr1000v-1#show ip bgp summary 
BGP router identifier 192.168.100.1, local AS number 65000
BGP table version is 9, main routing table version 9
3 network entries using 744 bytes of memory
6 path entries using 864 bytes of memory
5/3 BGP path/bestpath attribute entries using 1440 bytes of memory
1 BGP AS-PATH entries using 24 bytes of memory
0 BGP route-map cache entries using 0 bytes of memory
0 BGP filter-list cache entries using 0 bytes of memory
BGP using 3072 total bytes of memory
BGP activity 6/3 prefixes, 10/4 paths, scan interval 60 secs
3 networks peaked at 17:03:10 Feb 25 2021 UTC (00:07:25.869 ago)

Neighbor        V           AS MsgRcvd MsgSent   TblVer  InQ OutQ Up/Down  State/PfxRcd
192.168.0.0     4        65000      29      30        9    0    0 00:22:43        0
192.168.0.5     4        65100      34      29        9    0    0 00:22:45        2
192.168.0.9     4        65000      24      24        9    0    0 00:15:28        3

Validate iBGP neighbors on the csr1000v-0 router. This router is only connected to internal routers:
csr1000v-0#show ip bgp summary 
BGP router identifier 192.168.100.0, local AS number 65000
BGP table version is 11, main routing table version 11
3 network entries using 744 bytes of memory
6 path entries using 864 bytes of memory
2/2 BGP path/bestpath attribute entries using 576 bytes of memory
1 BGP AS-PATH entries using 24 bytes of memory
0 BGP route-map cache entries using 0 bytes of memory
0 BGP filter-list cache entries using 0 bytes of memory
BGP using 2208 total bytes of memory
BGP activity 4/1 prefixes, 10/4 paths, scan interval 60 secs
3 networks peaked at 17:03:10 Feb 25 2021 UTC (00:08:01.442 ago)

Neighbor        V           AS MsgRcvd MsgSent   TblVer  InQ OutQ Up/Down  State/PfxRcd
192.168.0.1     4        65000      31      29       11    0    0 00:23:18        3
192.168.0.3     4        65000      42      40       11    0    0 00:31:46        3

Validate full routing table on csr1000v-0. This router has prefixes from connected interfaces, internal networks, and external networks:
csr1000v-0#show ip route 
Codes: L - local, C - connected, S - static, R - RIP, M - mobile, B - BGP
       D - EIGRP, EX - EIGRP external, O - OSPF, IA - OSPF inter area 
       N1 - OSPF NSSA external type 1, N2 - OSPF NSSA external type 2
       E1 - OSPF external type 1, E2 - OSPF external type 2, m - OMP
       n - NAT, Ni - NAT inside, No - NAT outside, Nd - NAT DIA
       i - IS-IS, su - IS-IS summary, L1 - IS-IS level-1, L2 - IS-IS level-2
       ia - IS-IS inter area, * - candidate default, U - per-user static route
       H - NHRP, G - NHRP registered, g - NHRP registration summary
       o - ODR, P - periodic downloaded static route, l - LISP
       a - application route
       + - replicated route, % - next hop override, p - overrides from PfR

Gateway of last resort is 192.168.0.5 to network 0.0.0.0

B*    0.0.0.0/0 [200/0] via 192.168.0.5, 00:22:31
B     192.168.0.0/17 [200/0] via 192.168.0.1, 00:07:10
      192.168.0.0/24 is variably subnetted, 7 subnets, 2 masks
C        192.168.0.0/31 is directly connected, GigabitEthernet1
L        192.168.0.0/32 is directly connected, GigabitEthernet1
C        192.168.0.2/31 is directly connected, GigabitEthernet2
L        192.168.0.2/32 is directly connected, GigabitEthernet2
i L2     192.168.0.4/31 [115/20] via 192.168.0.1, 14:21:05, GigabitEthernet1
i L2     192.168.0.6/31 [115/20] via 192.168.0.3, 14:20:31, GigabitEthernet2
i L2     192.168.0.8/31 [115/20] via 192.168.0.3, 00:16:34, GigabitEthernet2
                        [115/20] via 192.168.0.1, 00:16:34, GigabitEthernet1
      192.168.100.0/32 is subnetted, 3 subnets
C        192.168.100.0 is directly connected, Loopback0
i L2     192.168.100.1 [115/20] via 192.168.0.1, 14:17:34, GigabitEthernet1
i L2     192.168.100.2 [115/20] via 192.168.0.3, 14:20:31, GigabitEthernet2
B     192.168.192.0/19 [200/0] via 192.168.0.5, 00:08:22

Validate a complete path is working as expected from farthest router to server:
csr1000v-0#traceroute 192.168.200.2
Type escape sequence to abort.
Tracing the route to 192.168.200.2
VRF info: (vrf in name/id, vrf out name/id)
  1 192.168.0.1 3 msec 1 msec 1 msec
  2 192.168.0.5 2 msec 2 msec 2 msec
  3 192.168.200.2 [AS 65100] 3 msec 3 msec 2 msec

Validate server reachability:
csr1000v-0#ping 192.168.200.2
Type escape sequence to abort.
Sending 5, 100-byte ICMP Echos to 192.168.200.2, timeout is 2 seconds:
!!!!!
Success rate is 100 percent (5/5), round-trip min/avg/max = 2/2/4 ms

---